Matrx VMS Plus - New/Refurb*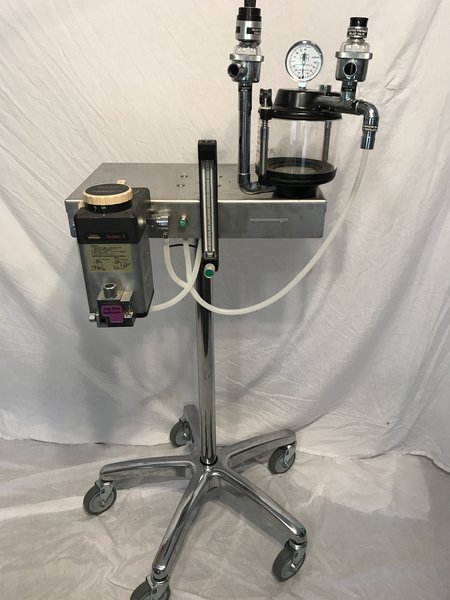 Matrx VMS Plus - New/Refurb*
Shown with TEC 4 Isoflurane vaporizer. Other styles and agents available, see drop down options above.
Machine sold only with vaporizers.
Vaporizer options include new, re-manufactured (recalibrated, completely rebuilt with 3 yr warranty) and certified (used, tested to confirm current calibration, with 1 year warranty).

We have 4 of these machines that came to us in great condition as either Matrx VMS (pole stand machine) or VMC (single drawer machine) and we have converted to a more standard shelf stand.
Small variances per machines (some have the black powder coat absorber, some are chrome, some have the lever latch style on the soda sorb canisters and some have the screw down style). We ship whichever style is available as there is no important functional difference between the machines.
All new features include:
Flowmeter, oxygen flush valve, stainless shelf (great for monitors and gear), chrome post, polished aluminum base and large heavy duty casters.
You can see regular Matrx VMS features here: http://www.midmarkanimalhealth.com/products/anesthesia/product/matrx-vms
These are great machines made even better with a more practical shelf and higher quality wheels (less likely to collect hair).
Reviews