Oxygen Concentrator 5 LPM - New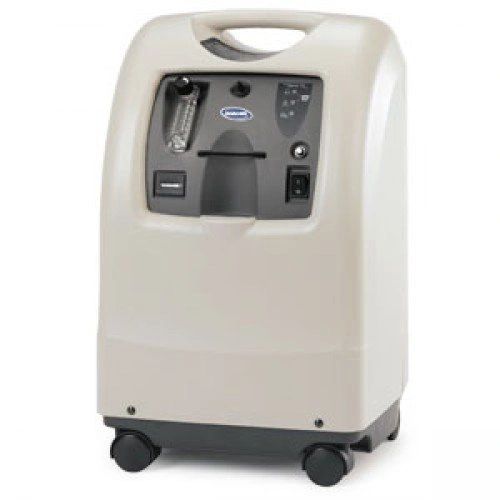 Oxygen Concentrator 5 LPM - New
New unit: Open box units


Brand will vary subject to stock availability, but all will be from major manufacturers with same features. 
Specifications:
·       Operating Flow: 0.5 - 5 L/min

·

       
Oxygen concentration between 93% - 95% (drops with higher flow rates)

·

       
Free oxygen hose if needed (up to 15')

·

       
Y's and quick disconnects to anesthesia machines available.

·

       
Sound Level: 53 dB Average

·

       
Power: 400W

·

       
Dimensions: 23.8"H x 18.0"W x 14.0"D

·

       
Weight: 54 lbs
     Oxygen 
Concentrator
 Considerations
Because 5 LPM concentrators run at around 7-8 PSI (versus 55 PSI on an oxygen tank), your anesthesia machine oxygen flush valve will not provide the very high flush of oxygen you may be used to. These concentrators are used in 1000's of vet clinics and most vets do not find this to be a significant issue.
Typically, the concentrator is set at 3 LPM for a single anesthesia machine and 5 LPM for 2 machines and then final oxygen flow is regulated at the anesthesia machine. Please be aware that when running two anesthesia machines off one concentrator large changes in flow rate on one anesthesia machine may change the flow rate on the other anesthesia machine when the combined total flow is close or above the flow rate set on the concentrator.
Concentrators have a foam filter on the outer case that must be cleaned at least once per week. Excessive hair build up on this filter will reduce air flow for cooling and result in premature compressor wear.
Any time the concentrator is running you need a least 1/2 LPM flowing through an anesthesia machine hooked up to the concentrator. Because oxygen concentrators do not have internal tank, they are always producing flow and need to release that flow to reduce internal pressure.
Most vets do not consider the noise level excessive and about 50% of our clients have these units in the surgery suite. We can help you setup hoses to place the unit in a remote location if preferred. Some clinics have attached the unit to the anesthesia machine stand so it rolls with the anesthesia unit.
The concentrator can be placed anywhere in your clinic, but should not be placed outside, even if in an exterior closet. Excessive heat/cold/humidity/dust will adversely affect the unit.
Concentrators are designed for the home/nursing home health care market where they routinely run 7x24x365. You can typically get 35,000 hours of use from a unit before it would need a major rebuild or replacement.
Reviews